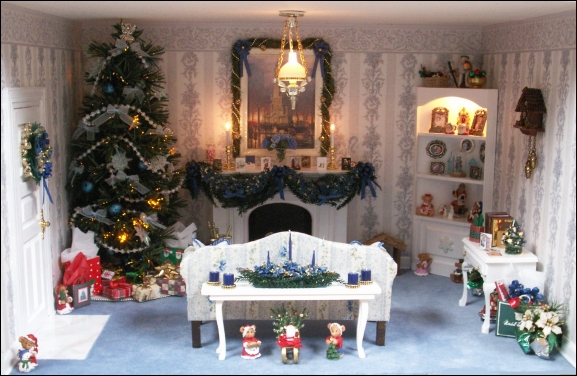 My mom kept "threatening" to take possession of my Christmas House and Workshop because she liked it so much. Of all the projects I've done (besides "Grandma's Kitchen", of course!), the Christmas House was her favorite and she told me that quite often. So my next project was easy to figure out: give mom her own Christmas roombox decorated in the colors of her living room! Then she'd have her very own Christmas miniature scene, complete with pictures of the family. And I'm quite positive that having a picture of her grandson in this particular room box would make her choose it over the Christmas House any day! :)
And the project name? My mom has been known as "Cookie" since she was a little girl - a nickname my grandmother gave to her that has stuck throughout the years!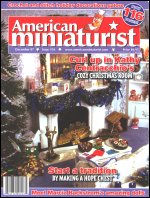 Cookie's Christmas was featured in the
December 2007 issue of American Miniaturist

I really loved the fabric I found for this couch! This is a couch that I "reupholstered"; the fabric was originally the same as the one in Spinner's End. I made the table to fit the back of the couch. The centerpiece was made from scratch with some guidance from an old kit.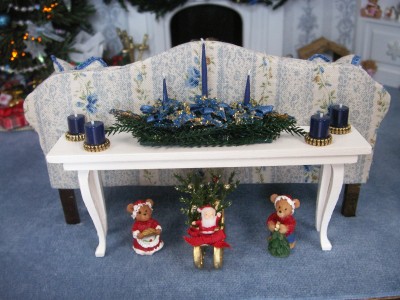 | | | |
| --- | --- | --- |
| | | The left side of the room. I made the wreath from a kit -- except the kit had supplies for pink accents! I swapped the pink for blue, and I'm pretty happy with the outcome. |

The Christmas tree lights up! It's a fiber-optic Christmas tree that I decorated with ornaments and blue "organza" bows, then draped a string of small "pearls" around it. The tree originally had only yellow lights, but my electronic genius husband swapped them so they change from green to red to yellow. The end result was wonderful! The angel up top is a charm. I made the tree skirt, as well as a few of the presents and bags - some are from a kit, some were made on my own.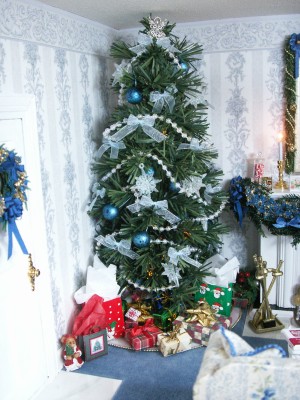 | | | |
| --- | --- | --- |
| | | Once again, my favorite part of the living room is the fireplace mantel! The painting on the wall is one of the Chicago Water Tower in winter by Thomas Kinkade; what better than to have a Chicago painting in a Chicago living room? :) The fireplace swag I made from scratch, once again with guidance from an old kit I'd used. I made most of the Christmas cards. I found a gorgeous crystal vase, and ended up taking apart a blue floral decoration so I had blue flowers to add to the vase. |

| | | |
| --- | --- | --- |
| Next to the fireplace is a manger (which in Polish comes out to be a word pronounced "zhoo-bec"). Since I was little, we've always had a manger among our Christmas decorations, so of course this room box could be no different! I found the Holy Family, but couldn't find a manger... so I made one myself! | | |

| | | |
| --- | --- | --- |
| | | On the table is a "Traditional Polish Christmas Recipes" cookbook (no doubt there's a recipe for pierogi in there!) and Christmas cards in the process of being opened. There's also some nuts, which are always a staple around my house during the Christmas holidays, and some Christmas cookies. I don't see any kolachy in the tin, though! |

| | | |
| --- | --- | --- |
| The right side of the room. | | |

| | | |
| --- | --- | --- |
| | | A corner bookcase with lots of photos and treasures! |

The top shelf has two photos of my mom and dad; one was taken on their wedding day, August 4, 1962, and the other is from a wedding several years ago. The middle frame holds a photo of my mom's pride and joy - her grandson, Tommy. He's all ready to experience the 2007 Brickyard 400 NASCAR race with his Aunt Kathy and Uncle Vinny, proudly decked out in his Jeff Gordon shirt and Jimmie Johnson hat. On the second shelf is a photo of my mom's parents and a photo of me and Vince. In the middle is a Halloween photo of my brother and me from about 1968 or so. On the right side is a photo of my dad's parents and a photo of my brother Bob and his wife Jessica.

The last shelf has knick-knacks, including three miniature "Snow Babies" I happened to come across.

| | | |
| --- | --- | --- |
| The table was made from a kit. I made the snowman bookends to fit a set of Christmas novels I purchased. I found the miniature light-up Christmas tree at a show and replaced the lights so they were blue and white to match the room. And it wouldn't be Christmas in my house without some token of Marshall Field & Company! | | |

| | | |
| --- | --- | --- |
| | | Of course, no miniature setting of mine would be complete without the presence of a black and white cat named "Moonlight". Here she is curled up on the couch - naturally, the best seat in the house for the best GrandCat anyone could ever have! |